RAQ to Headline Berks JAMFest
Not enough time to jam?  RAQ's solution is to headline with two full sets at this year's Berks JAMFest at The Silo in Reading, PA.  With fans likening the group to the great jam stage mainstays, Phish, RAQ dishes out a healthy serving of self described "High Performance Rock and Roll" through progressive psychedelic jams.
The comparison to Phish isn't an overstatement either.  Both having roots in Burlington, VT, RAQ first stepped into the scene in 2000 and recorded their album, "Carbohydrates" in 2002 that would launch them on a national tour. It was only a matter of time before Trey Anastasio himself took notice and their current album, "Ton These" was born in the composer's studio "The Barn" in Vermont.  Behind the scenes the connections between the two seem endless with close friends having toured with Phish and even helping to start the Green Crew.
RAQ's resume is pretty impressive with most of the major jam festivals already on their sleeve.  Having performed at Bonnaroo, High Sierra Music Festival, Wakarusa Music and Camping Festival, moe.down and Camp Bisco amoung many others, a stint at The Silo is a welcome opportunity to see RAQ in a more intimate setting.
The smaller setting may even be more appropriate.  "We prefer club shows," RAQ's vocalist/keyboard Todd Stoops tells TriState, "When people come to club shows they come to see you, at a festival it's harder to connect with the fans."  The desire for that connection, and the expose to music released during their 18 month hiatus that ended in April, have sculpted their sound to incorporate electronic influences.  "We want to see people having a good time and dancing," said Stoops, "Everyone dancing is our goal."
With their root influences encrusted heavily in the history of jam like The Grateful Dead and Phish, all while paying close attention to the likes of Umphrey's McGee, Disco Biscuits, and The New Deal, RAQ spent their downtime listening to rising progressive artists like LCD Soundsystem, MGMT, Crystal Castles, Hot Chip, and countless DJ's.
That makes for an interesting cocktail of experimentation.  "We still love jamming though," continued Stoops, "There was a day when three songs would last 90 minutes."  While the jams might not last quite as long the band is excited to share their ever maturing sound on Saturday. The group has eight new songs ready for the stage that they are currently laying down in the studio to release an EP in December "to show their new direction."   But keep in mind, "We're not forgetting about rock…after the EP release it's 2011 and we're going to kick your ass."
So don't miss this chance to indulge in the RAQ high octane progressive rock experience at Berks JAMFest on Saturday evening from 10:30pm to 1:30pm.  The Fest lasts all weekend though kicking off with a personal favorite of mine Flux Capacitor bringing all 1.21 gigawatts of electricity to the stage at 6:00pm Friday.  See the rest of the schedule here.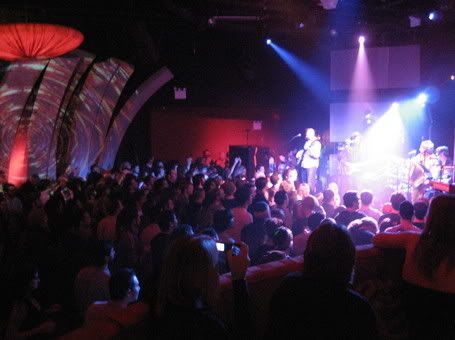 Photo courtesy of Glide Magazine